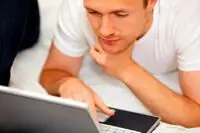 TELE-MENTAL HEALTH AND DISTANCE SERVICES
with New Leaf Services, LLC
New Leaf Services, LLC is pleased to offer affordable,convenient and confidential internet and telephone counseling sessions. This is counseling that's done electronically via your laptop or home PC.
The emergence of internet and phone counseling has transformed the way counseling is performed. In addition to making treatment more accessible to people, there are several positive reasons to consider internet counseling:
Increased comfort: imagine being able to complete your therapy from your very own couch in the safety and comfort of the familiar surroundings in your home.
Increased options: if the therapist you want to see or need to see isn't conveniently located near you, you can still use their services.
Access to your therapist through e-mail, voice-mail and telephone and internet.
Exchange messages and submit questions to your therapist between sessions.
Increased availability to continue therapy while traveling for work or while on vacation.
Increased privacy: there's no concern that you'll run into someone you know while sitting in the waiting room of your virtual therapist.
Time saved from having to drive to and from the counseling office.
Evening and Saturday appointments are available.
A perfect solution for both the busy executive and parent!
What to expect:
Is internet counseling much different from a regular in-person appointment? The short answer is no. You and your therapist will be at different locations;however, your internet therapy appointment will be very similar to a typical appointment in a counseling office.
Your counselor will work with youas they normally would if you were sitting in their office. Additionally, our therapists may periodically assign videos to watch or "homework" assignments that can be submitted electronically, but even these won't be much different than what an in-person therapist might ask of you.
So how do you get started? We've made this very simple. Just call us at 855-579-5323, extension 1, and we will be happy to arrange an internet session with you and therapist at a convenient time.
New Leaf Services, LLC proudly offers almost all services through tele-mental health and distance therapy to all residents of Texas! Call today.
Is this confidential and private?
We a state-of-utilize a state-of-the-art technology, operation, and infrastructure with one thing in mind: protecting your privacy and safeguarding the information you provide. Our privacy and confidentiality standards are by far more advanced than what is required by law or regulations, so you can feel safe and comfortable. We adhere to all federal and state laws.
If you wish for any of your information or records to be released to a third party, please let your counselor know. Your counselor will send you an authorization form that you will need to fill and sign before your information can be released.
DISCLAIMER:
IF YOU ARE IN A LIFE-THREATENING SITUATION, DO NOT SCHEDULE ON THIS SITE. CALL THE 24-HOUR NATIONAL SUICIDE PREVENTION LINE AT 1-800-273-8255. YOU WILL BE ROUTED TO THE CRISIS SERVICES NEAREST YOU. IF YOUR ISSUE IS AN EMERGENCY, CALL 911 OR GO DIRECTLY TO THE NEAREST EMERGENCY ROOM.